Today I had a minor operation. I am prone to seborrheic keratoses. Here's a picture of one. Yuk.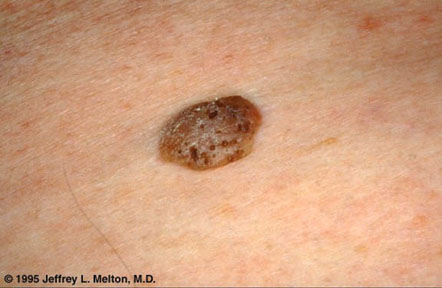 This is not a picture of one of mine which are usually darker and bumpier. I've had one above and to the left of my left eye for the last several weeks, and my family physician felt it ought to be "looked at".
From the Wiki, "The main danger associated with seborrheic keratoses lies in their resemblance to malignant melanomas, which has sometimes led to a misdiagnosis of the cancerous lesions." The Doc felt a biopsy was in order for this one, and also I felt why not remove the whole thing, for "cosmetic reasons"? Since I take the blood thinner, Coumadin, he recommended that the procedure be done in the hospital, so today at 8am I went into the Stephens Memorial Hospital in Norway, Maine, accompanied by Cynthia, for my minor operation.
It took them an hour to "prep me" which wasn't that bad even though I had not been allowed to consume any food or water after midnight. The nurse was very pleasant and attractive, and it was good to have Cynthia there with me for chatting and extra care. Finally, the hour for the operation arrived, another nurse appeared and gave me some "happy juice" as a mild sedation, and I was wheeled off to the operating room. It was over in a flash, or so it seemed, and I was wheeled back, given a sweet roll and some coffee, and sent on my way with a list of instructions. Cynthia did the driving even though I felt fine. The stitches come out in four days and soon after that, if not before, I should learn that the keratosis was benign…….
😯
UPDATE: 2/16/2008 Actually the stitches don't come out until the 22nd. The dressing came off in four days, namely, today. Now an inch and a half long scar with black stitches is visible beside my left eye. Perhaps a black patch would do?
Tags: biopsy, cancerous lesions, coumadin, family physician, keratosis, malignant melanomas, mild sedation, norway maine, stephens memorial hospital